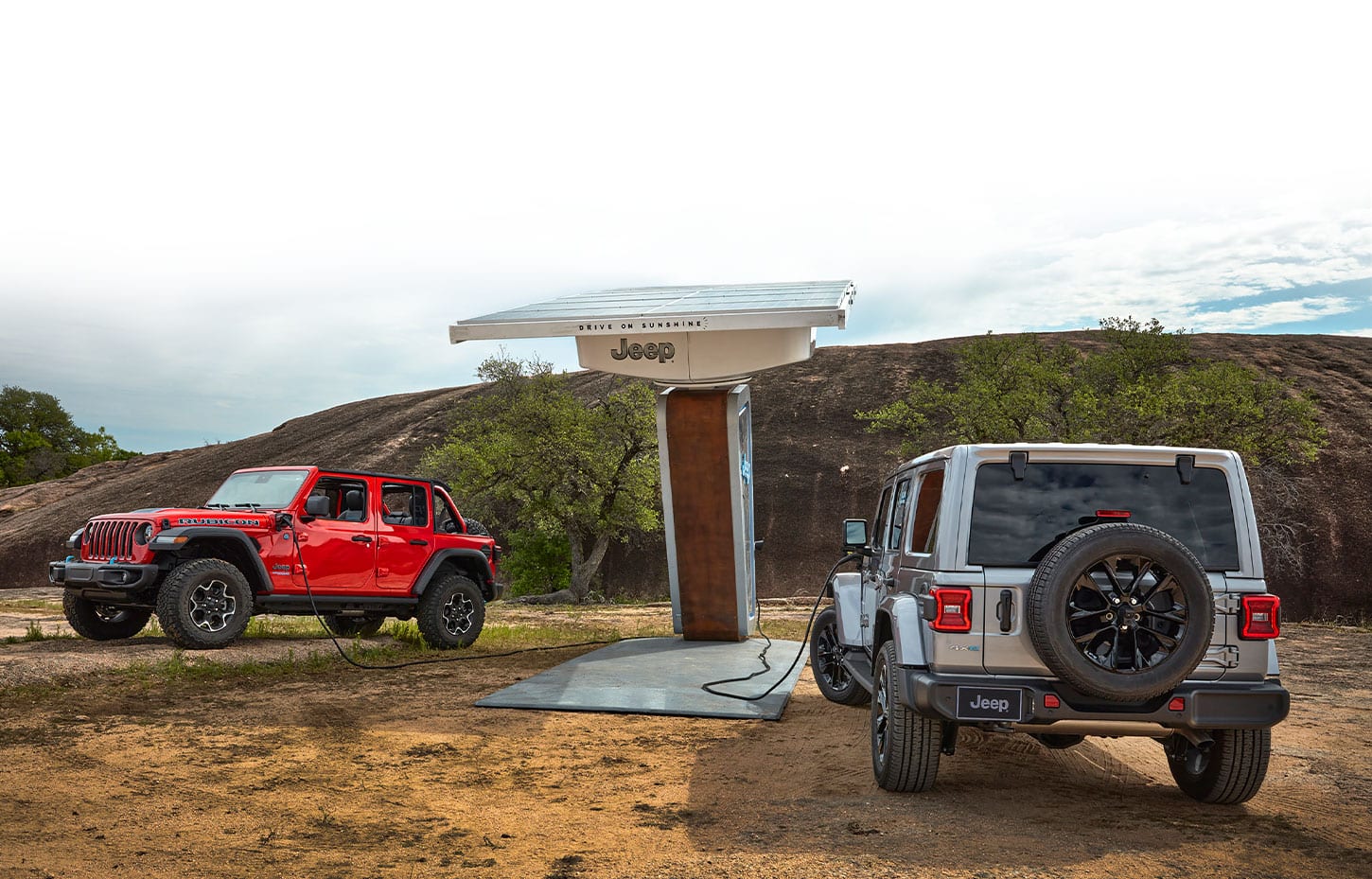 Jeep 4xe Charging Network
Jeep is taking electrified propulsion beyond the paved road with the state-of-the-art 2021 Jeep Wrangler 4xe plug-in hybrid. In addition, the jeep has partnered with Electrify America to create the Jeep 4xe Charging Network by installing Jeep-branded EV charging stations by trailheads of Jeep Badge of Honor off-road trails. This partnership will allow Jeep enthusiasts to take full advantage of their electrified Wrangler 4xe and any other future electric Jeeps.

Where are the Jeep Charging stations located?
The Jeep 4xe charging stations will open at three of the most popular off-road trails, the Rubicon Trail in Pollock Pines, California, and Big Bear, California. In addition, all the charging stations will be located near the Jeep Badge of Honor trailheads, Beyond the Rubicon Trail, Big Bear, and Moab sites. Other locations for Jeep 4xe Charging Network EV chargers will be announced in the future.
How do you access the charging station?
Jeep is working with the renowned public charging network Electrify America to create these trailhead charging sites. As a Wrangler 4xe owner, you will be able to log in to unlock free charging via a custom mobile app by Electrify America. The driver will be able to turn on the charging station as well as monitor their charging session. Cheers to a new type of trailhead support.

If the stations are at trailheads, how will they be powered?
All Jeep charging stations will be directly connected to the power grid or use solar power to generate electricity. The chargers will be Level 2 chargers that deliver 240-volt charging. With Level 2 charging, the Jeep Wrangler 4xe's 17-kilowatt-hour battery pack will be fully recharged in about two hours, delivering up to 21 miles of electric range.

What is Electrify America?
Electrify America runs an electric vehicle DC fast-charging network within the USA. The company has over 500 charging locations and over 2,200 individual charging units. Drivers can locate stations through Electrify America's website or the smartphone app. Payment is processed through the app, or drivers can pay with a credit card at the stations. Electrify America chargers support 50 kW, 150 kW, and 350 kW.

2021 Jeep Wrangler 4xe
Jeep synchronize the launch of their EV Charging network with the release of their all-new 2021 Jeep Wrangler 4xe plug-in hybrid, the most capable and eco-friendly Wrangler ever, delivering up to 375 horsepower and 470 lb.-ft. of torque, the 2021 Jeep Wrangler 4xe lets drivers modify the performance of the hybrid powertrain via the E Selec modes.

Marburger Chrysler Jeep Dodge Ram has your next Jeep!
To learn more about the Jeep Charging Network or become a Jeep Family member, head over to Marburger Chrysler Jeep Dodge RAM. Our goal is to deliver world-class customer support to you for years to come. Our dealership is centrally located with a team of professionals ready to pair you with the vehicle you want today.