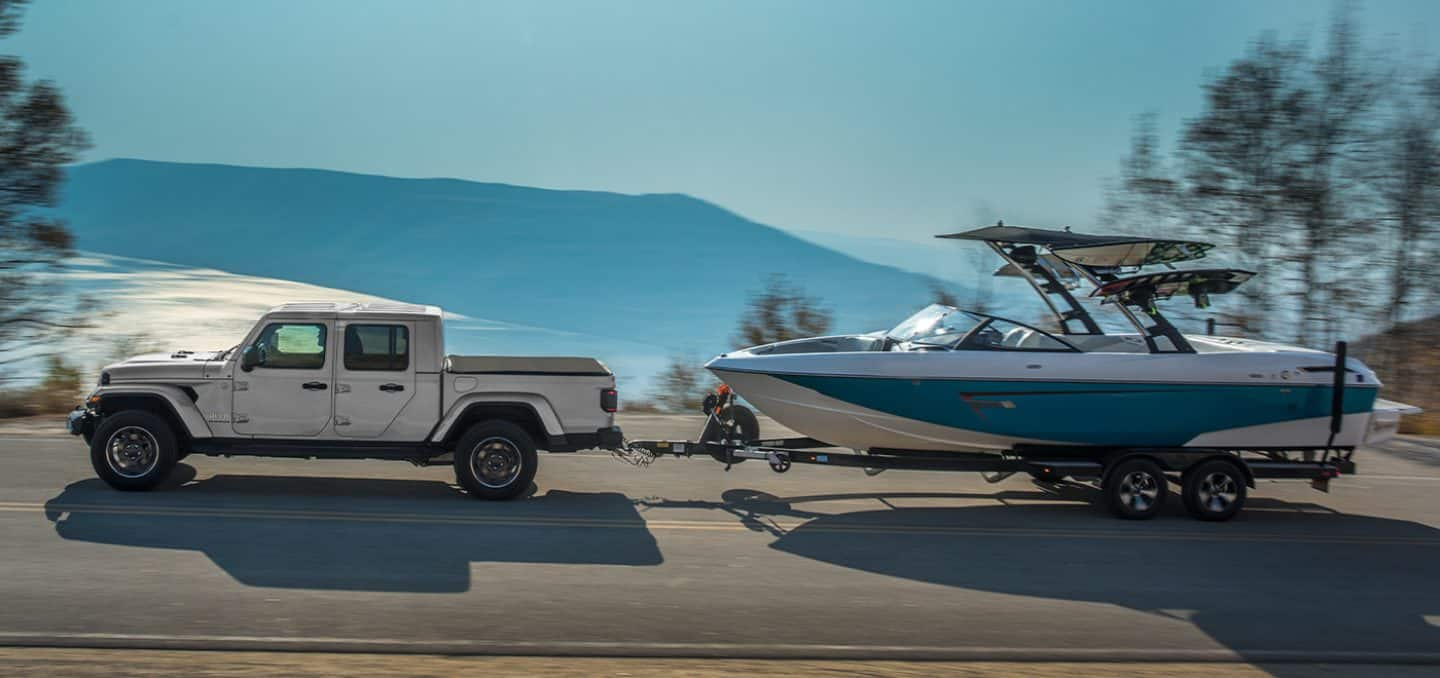 Jeep Gladiator Accessories for Sale NC
Find Parts and Accessories at Marburger CDJR!
The Jeep Gladiator is a pickup truck that truly lets you go anywhere! Throughout the 2022 trim level lineup, there are two specialized models that are built for off-road terrain, and all models come with standard features like Dana 44 solid axles, and 4-wheel drive. In addition to its off-road prowess, the Gladiator delivers pure muscle, with two available powertrain options, a 5-foot flatbed, and a maximum towing capacity of up to 4,500 pounds! It also comes standard with a removable roof, removable doors, and a fold-down windshield that makes it easy for you to enjoy the open air. To customize your own Gladiator, you'll have tons of great options thanks to the accessories available from Mopar! You can find accessories for your Gladiator's interior, exterior, bed, and more! Read on to learn about some of the top accessories for the 2022 Jeep Gladiator, and find out how to order yours with Marburger CDJR.
Performance & Capability
As we mentioned earlier, the Jeep Gladiator is known for its power and capability, whether you're tackling tough jobs, or hitting the off-road trails. The Rubicon and Mojave trims in particular will help you with your more heavy-duty pursuits, with standard features like all-terrain tires, and high-clearance fender flares. However, you can boost the performance of any Jeep Gladiator model with the help of some of these available Mopar accessories. You can opt for a winch to enhance your Gladiator's front towing ability. There's also a bumper bar for added front-end protection out on the trails. For optimal engine cooling, you can add a cold-air intake system, and there's also a tow hitch adapter to help you hook up your trailer.
Winch
Bumper Bar
Cold-Air Intake
Tow Hitch Adapter
Interior
The Jeep Gladiator has a similar interior layout to the Jeep Wrangler, with two rows of seats, and enough space to comfortably accommodate up to five passengers. It comes with standard cloth-trimmed seats with leather seating as an available option, and the whole lineup features the UConnect 4 infotainment system with a standard 8.4-inch touchscreen. To make the most of your Gladiator's interior, you can opt for features like the cabin air purifier, to keep the interior feeling crisp and clean. There's also an available pedal cover kit, which lets you add a sportier look and feel. You can also keep a safety kit on hand to be ready for anything, and keep your items organized with the four-compartment storage tote.
Air Purifier
Pedal Cover
Safety Kit
Storage Tote
Exterior
The Jeep Gladiator has a unique exterior that comes standard with removable doors, a removable roof, and a fold-forward windshield! You can also find available features such as all-terrain tires, unique hood decals for the Rubicon and Mojave trims, and so much more! Of course, there are also many different accessories available for your Gladiator's exterior, all of which can be found on the Mopar eStore. First off, there's a window air deflector, which can keep out excess wind and rain, allowing you to comfortably open your windows a crack to let in fresh air, regardless of the weather. There's also a Mopar door kit, with sporty half-doors that you can swap out for your truck's full doors. To enhance your Gladiator's appearance, you can find a grille insert, a side emblem, and more!
Air Deflector
Mopar Door Kit
Grille Insert
Side Emblem
Rooftop Storage
The 2022 Jeep Gladiator offers many different opportunities for smart storage! Each Gladiator trim level comes standard with a 5-foot truck bed, so you can store all the items you need for the job site. You can also fold down the rear seats, and even the front passenger's seat to expand your exterior storage space! However, if you're looking for ways to carry cargo outside the vehicle, you're in luck. The Mopar eStore offers many different rooftop racks so that you can carry your items on top of the truck, without worrying about whether or not they're secure. For example, there's a surfboard rack, a bike rack that can carry up to two bikes at once, a rooftop basket, and a hard-top cargo carrier!
Surfboard Rack
Cargo Carrier
Rooftop Basket
Bike Rack
Jeep Gladiator Accessories Near Me
Are you interested in adding a few custom touches to your Jeep Gladiator? If so, then Marburger CDJR is here to help! Here at our on-site service center in Shelby, North Carolina, we can help you order and install all of the parts and accessories you might need in order to make the most of your pickup truck. You can also browse even more accessories online using our Mopar accessories catalog! Plus, you can find service specials, and even request your appointment, all online. If you have any questions about which accessories are available for your Gladiator, or which parts might be best for you, our friendly and knowledgeable service staff will be more than happy to help. Shop online, or get in touch with us today at Marburger CDJR of Shelby!